'If the myth gets bigger than the man, print the myth...'

And so, the man who failed, regrettably with a considerable loss of life, has gone down in history as a hero, while the astonishing achievements of an unassuming Orkney doctor remain unknown.
That's why, in 2013, The John Rae Society was formed.READ MORE

We have bought the Hall of Clestrain! The final funds were raised at the 2018 Birthday weekend read the full report here
Help us raise the funds to build a temporary visitor centre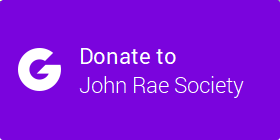 LATEST :
Are you a Coop member?
If so you can choose for 1% of the money you spend to go to the John Rae Society.
Just register at https://www.coop.co.uk/membership
Incredible news just announced !
Our JustGiving page has been set up if you would like to donate to help retore the Hall of Clestrain please click here
Don't forget to get your JRS Lottery tickets, we are drawing the prizes on the 30th September so time is running out! See a list of the prizes here
2017 5th - 8th May was our First Festival and book launch!Read More
Hall Planning MeetingRead more
Survey of The HallRead more
AGM & Other Minutes PublishedRead more
President's 2016 report Read more
Hudson's Bay Company - 2016 Christmas Bear is named after John Rae
Only normally available in Canada and USA but we have a few for sale in the UK - Now back in stock!
John Rae Society is mentioned in the Scottish Parliament
John Rae Society acquires the Hall of Clestrain!
Thanks to everyone who attended our Party for John Rae's 2016 birthday. A great evening was had by all, full report and photos will follow. Thanks again to Fiona Driver who stood in at the last moment because of Jo Philby's illness. Full report of a great evening here
Want to read more about John Rae and the society? Download our excellent newsletters.
Stone and plaque unveiled at the Hall of ClestrainReport
News: Personal memorial flowers at the Hall Details here.
News: Display board and donation box at the HallDetails here.
News: Urgent repairs to the Hall of Clestrain Details here.
Update: Member John Snoad has compiled an updated Book List here
News: On 30 September 2014, a plaque was erected in Westminster Abbey, London, recognising John Rae as an Arctic Explorer. READ MORE
Help: Click to find out how you can help us.
Sad News
The John Rae Society was very saddened to learn of the sudden and unexpected death of one of its Trustees, Xandra Shearer.
Xandra had been a loyal supporter of the Society since its formation in 2013 and was an active Trustee, taking on the specific task of Chair of the Events Committee. Despite some disability she carried this through with what can only be described as verve and vigour, turning up at every event, usually with a selection of very popular home-bakes.
Xandra had a wicked sense of humour and always had a twinkle in her eye, which endeared her to all who knew her. She will be greatly missed by all her colleagues and friends and the Trustees would like to offer their sincere and heartfelt condolences to her husband and our chairman, Norman, as well as to her family.
Andrew Appleby - President John Rae Society